Date: July 27th, 2013
Time: 8:30 AM – 5:00 PM
Location: Cobourg Beach
Charity: Fare Share Food Bank Northumberland
Amount Raised: $2400, 545lbs
Entry Fee: $130/team + Charitable Food Donation
Teams: 16 confirmed
Format: mixed (co-ed), 6 on 6 (4-2 min ratio)
Winners: GangGreen (DUC)
Results

GangGreen from Durham Ultimate Club took the coveted Storm The Beach championship for the 5th Annual beach tournament.

We managed to set another fund-raising record of $2400 for Fare Share Food Bank Northumberland.  Additionally, we managed to collect a whopping 545lbs of food.  Many thanks to our event participants, and our sponsors for making this a great event!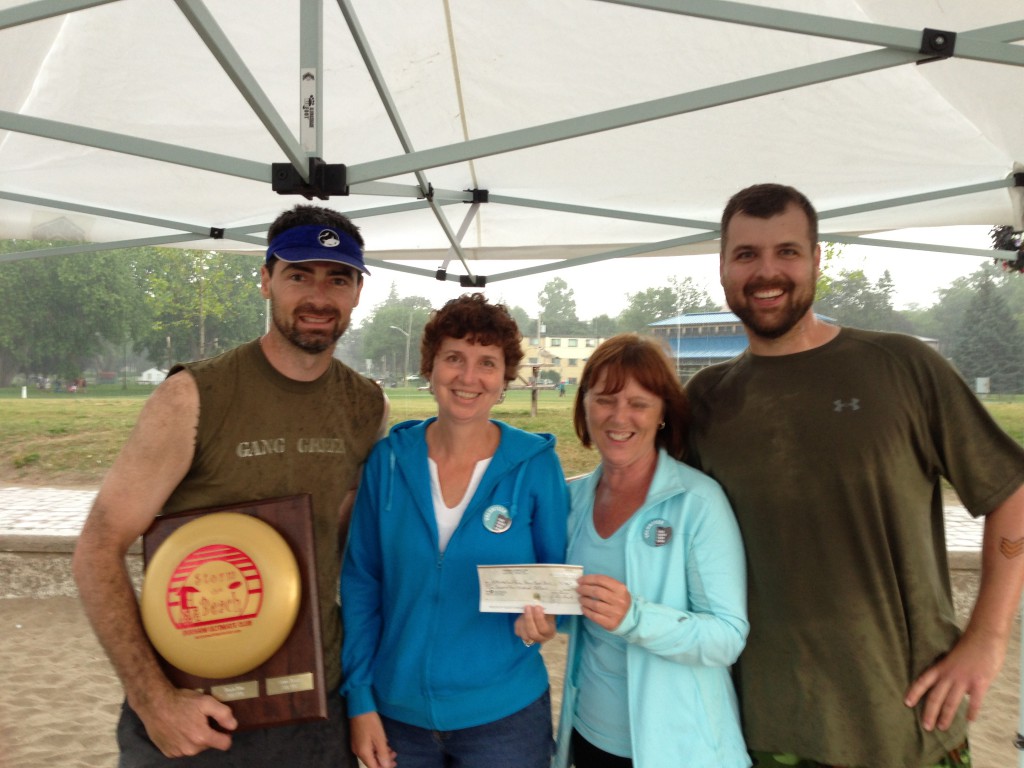 Links
Fare Share Food Bank Donation
As part of our effort to increase our impact in the community, we will be collecting canned food items for Fare Share Food Bank Northumberland. We're asking that everyone on your roster donate three items – so we have a great package to take to them! They have items that are most in need, and would be a good place to start. Items will be collected/received at registration, the day of the tournament.
Sponsors
Please visit our sponsor page, and patronize our sponsors. They will be working hard to help make this a great event.
Other
We're constantly adding information to the site, subscribe to our RSS for updates.
See our 2013 posts for up to the latest blog updates for this year's event.
Teams (confirmed)
99 Problems/Ronin (TUC)
CNUC (CNUC)
BUDA (BUDA)
Surfin USA (DUC)
Slings (DUC)
8 the Sandbox (PUL)
Revolution (DUC)
BULLDOGS (TUC)
Strangers With Candy (TUC)
Mars Meet Venus (TUC)
Hydra (Niagara Ultimate)
Princess Layout (TUC)
GangGreen (DUC)
G.I. Joes (Kingston Ultimate)
HammerTime (HUC)
The Dirty South (HUC)