Date: Saturday August 8th, 2015
Time: 8:30 AM – 5:00 PM
Location: Cobourg Beach
Charity: Fare Share Food Bank Northumberland
Amount Raised: $3296.60, 669lbs of food
Entry Fee: $150/team + Charitable Food Donation
Teams: 20 spots, full
Format: mixed (co-ed), 6 on 6 (4-2 min ratio)
Winners: Gomesquad (GUPA)
Results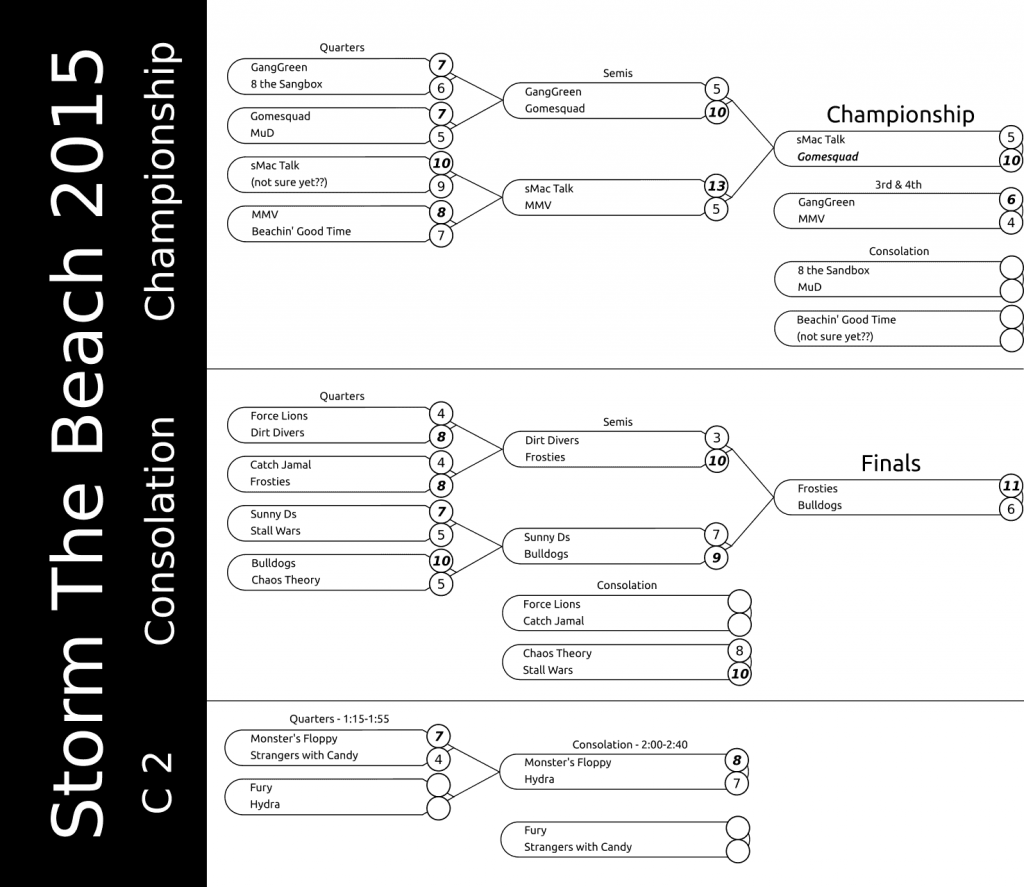 Gomesquad from Guelph Ultimate Players Association took the coveted Storm The Beach championship for the 7th Annual beach tournament:
We managed to collect a new record:  669lbs of food, and $3296.60 for Northumberland Fare Share Food Banks.  Many thanks to our event participants, and our sponsors for making this a great event!
Sponsors
Please visit our sponsor page, and patronize our sponsors. They will be working hard to help make this a great event.
Registration
Registration is now closed.  Wait list positions are full.  Below is the list of teams confirmed for Storm the Beach 2015.
Fare Share Food Bank Donation
As part of our effort to increase our impact in the community, we will be collecting canned food items for Fare Share Food Bank Northumberland. We're asking that everyone on your roster donate three items – so we have a great package to take to them! They have items that are most in need, and would be a good place to start. Items will be collected/received at registration, the day of the tournament.
Other
We're constantly adding information to the site, subscribe to our RSS for updates.
See our 2015 posts for up to the latest blog updates for this year's event.
Teams (confirmed)
Chaos Theory (BUDA)
Dirt Divers (DUC)
Fury (DUC)
Stranger with Candy (TUC)
Catch Jamal (TUC)
Stall wars (GUPA)
Sunny Ds (MSSC, BUC)
sMac Talk (McMaster)
Gang Green (DUC)
Beachin' Good Time (DUC)
Gomesquad (GUPA)
Bulldogs (TUC)
Frosties (TUC)
(not sure yet???) (PUL)
Mars, Meet Venus (MMV) (TUC)
Hydra (Niagara Ultimate)
MuD (GUPA/WODS/TUC)
8 the Sandbox (PUL)
Force Lions (TUC)
Monster's Floppy (TUC)