Date: Saturday, July 7th, 2012
Time: 8:30 AM – 5:00 PM
Location: Cobourg Beach
Charity: SickKids
Amount Raised: $2305
Entry Fee: $130/team + Charitable Food Donation
Teams: 16 teams confirmed
Format: mixed (co-ed), 6 on 6 (4-2 min ratio)
Winners: Hot Beetches (LUC/London)
Results

Hot Beetches from LUC beat DUC's Mutiny to take the Win!
We managed to raise a record-setting $2305 for SickKids foundation.  Many thanks to our event participants, and our sponsors for making this the best year so far!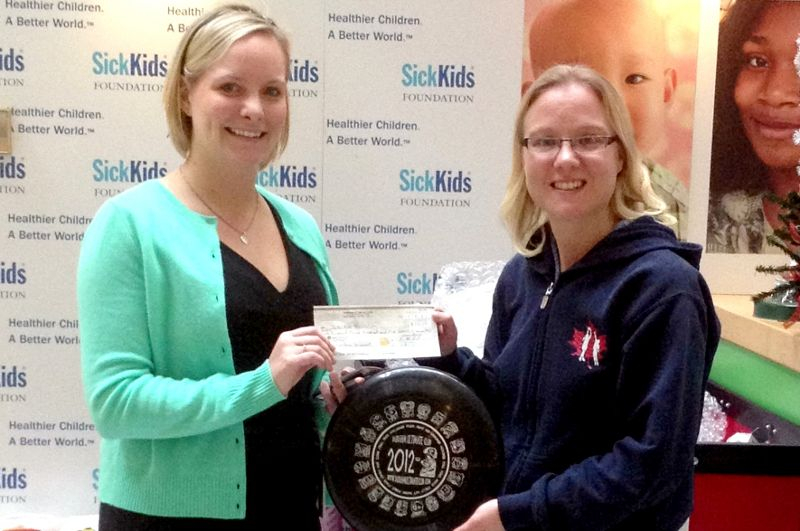 Fare Share Food Bank Northumberland received 205lbs of food from Storm The Beach.  It is especially appreciated the support during the summer months.
Links
Fare Share Food Bank Donation
This year, as part of our effort to increase our impact in the community, we will be collecting canned food items for Fare Share Food Bank Northumberland.  We're asking that everyone on your roster donate at least one item – so we have a great package to take to them!  They have items that are most in need, and would be a good place to start.  Items will be collected/received at registration, the day of the tournament.
Sponsors
Please visit our sponsor page, and patronize our sponsors.  They will be working hard to help make this a great event.
Other
We're constantly adding information to the site, subscribe to our RSS for updates.
See our 2012 posts for up to the latest blog updates for this year's event.
Teams (confirmed)
Huck Norris (DUC/Bowmanville)
Disc Respect (KUL/Kingston)
Courtesy Flush (TUC/Toronto)
NUTS (Niagara Ultimate/St Catharines)
Once Were Warriors (OCUA/Ottawa)
Beachin' Good Time (DUC/Whitby)
Johnny B. Goode (TUC/Toronto)
Strangers With Candy (TUC/North York)
Hot Beetches (LUC/London)
Ronin (TUC/Toronto)
HCBB (DUC/Oshawa)
BUDA (BUDA/Belleville)
Purple People Eaters (Niagara Ultimate & BUC/Niagara & Brampton)
Mutiny (DUC/Durham)
Mars Meets Venus (TUC/Toronto)
Princess Layout (TUC/Toronto)